Create your signature cat eye look with even lines and wings
Effortlessly perfect your cat eyeliner in seconds by using Eyeliner Stencil Cat Eye. This eyeliner template is an easy to use guide to sharp and evenly drawn winged tip eyeliner. Go for the smokey eyes or cat eye look with less hassle. Convenient, practical, and very helpful tool especially for makeup beginners who are perfecting their eye-lining skills. 
HIGHLIGHT FEATURES
Draw even eyeliner with winged tips.

Create a sharp and evenly matched winged tip eyeliner in seconds! Eyeliner Stencil Cat Eye is a reusable eyeliner template designed and molded to achieve cateye and fishtail eyeliner finish. It helps you draw the perfect cat eyeliner for a smokey eyes look. Suitable for all eye shapes.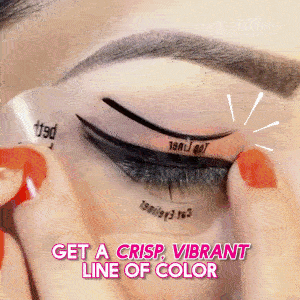 Create your signature cat eye look.

Achieve great-eyelining skills like a pro and create your signature cat eye look without making a few tries to match each side. This 2 in 1 template comes in 2 styles and angles that give amazing natural-looking results.  Reusable and reliable template made of quality matte PVC material that allows you to draw your eyeliner with ease.
Convenient and super easy to use makeup too

l. Save your time by using this eyeliner stencil. Finish your eye makeup in 5 minutes instead of 25! This stencil has a ready molded and 2 different angles you can choose. Simply put the eyeliner stencil where you want to put the eyeliner, and start drawing. Remove the eyeliner template and you're done!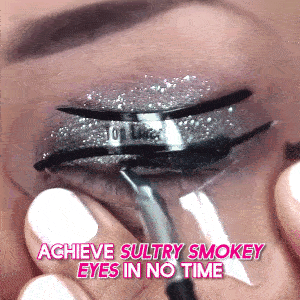 Ideal makeup tool kit for makeup enthusiasts.

This stencil is a perfect makeup tool aid for beginners who want to improve their eye makeup skills. Also great for makeup designers, professionals. Add this eyeliner stencil to your makeup kit. Create sharp, and perfectly even eyeliner with winged tips to match your outfit, or when attending parties or special occasions. 
Product Specification:
Material: matte PVC
Product Size: 

Cat Eye Stencil -  6.7 x 3.5cm
Smokey Eyes Stencil - 7 x 38 cm
Color: transparent 
Package Included:
1 x set Eyeliner Stencil Cat Eye