Clean glass windows and mirrors without streaks and water stains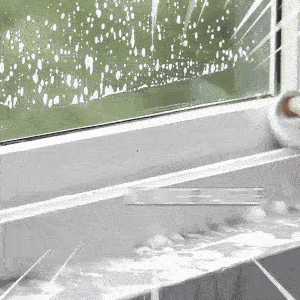 Tired of cleaning glass windows and mirrors at home? Make it easier, faster and cleaner by using Extendable Glass Cleaning Wiper with Water Spray. This 3 in 1 glass cleaning tool is a scrubber, wiper and sprayer in one. This double-sided cleaner cleans indoor and outdoor glass surfaces faster than your traditional solution and cloth. No streaks and no water stains.  Extendable for hard to reach areas and built-in sprayer for cleaning agents or water. It's a super easy and time-saving glass cleaner. 
HIGHLIGHT FEATURES
Microfiber scrubber side. O

ne side of the Extendable Glass Cleaning Wiper with Water Spray is a microfiber scrubber that cleans out grime, dust, grease, and stains on glass surfaces. It's lint-free that cleans without leaving any streaks behind. Suitable for homes with high glass windows and mirror surfaces and even windshields. 
Silicone wiper.

Clean any glass surface and remove all streaks, stains and leave it squeaky clean and clear. The silicone wiper gets rid of excess water and solutions for fast, streak-free drying. 
Built-in spray bottle.

High capacity spray bottle for water or cleaning agent. Simply squeeze to spray directly on the glass and wipe. No need to bring separate cleaning tools. Easy to use cleaner that gives instantaneous clean glass windows and mirrors.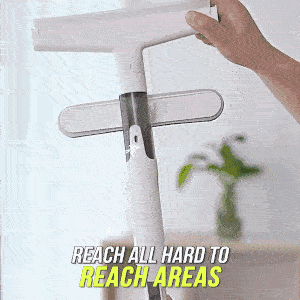 Extendable aluminum handle.

Clean faster and save your time on this tedious house chore. It also has an extendable handle that extends up to 58cm. Made from a lightweight aluminum rod that makes cleaning hard to reach areas easier to clean without using any stepping tools or ladder.  
Multifunction window cleaning tool

. It's a scrubber, wiper and spray in one making cleaning easier and quick. Perfect for cleaning the kitchen, bathroom, outdoor wall, window and car cleaning. 
Product Specification:
Material: microfiber, silicone, aluminum  
Product Size: 130*24.5 cm
Color:  white
Package Included:
1 x glass cleaning wiper with water spray