Build your own jurassic adventure!
What do you get when you put together dinosaurs and toy cars? This Dino-Race™ Dinosaur Car Track! It isn't just another car and track. It comes with dinosaurs, palm trees, and a cool dinosaur head car/jeep that creates an interactive play experience that you can't get from any other toy.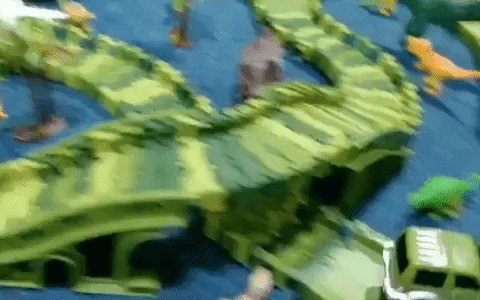 HIGHLIGHT FEATURES
Lots of hours of fun! -

Watch your child's eyes get bigger and more excited when the car runs through the tracks. They can build the tracks however they want to, they won't get tired of it and be glued to it for hours!
Better than sitting in front of an iPad -

It engages the builder and designer in them and helps them practice their memory and motor skills whenever they play with it.
For the child (and the child at heart) -

Create unique bonding moments with your children when you build it together. It makes an awesome gift for the little ones and a dinosaur or toy car aficionado, too!
SPECIFICATIONS:
Material: Die cast 

Suitable for 5 years old and up

Meets US & EU Toy Standards

ASTM Safety Test Approved

Race car requires 1 x AA Battery (Not included)
Package includes:
Set A
120 x tracks

2 x intersection tracks

1 x car

3 x palm trees

2 x dinosaurs
Set B
140 x tracks

4 x bridges

2 x support rods

1 x car

4 x palm trees

6 x dinosaurs

2 x dinosaur heads
Set C
200 x tracks

2 x intersection tracks

8 x bridges

4 x support rods

1 x car

4 x palm trees

8 x dinosaurs

2 x dinosaur heads
Set D
220 x tracks

2 x intersection tracks

8 x bridges

4 x support rods

1 x car

4 x palm trees

8 x dinosaurs

2 x dinosaur heads