Let your employees garner attention!
Create better employee accountability by having these name badges pinned on your employee uniforms. A  proven way to establish your business identity, enrich communication, strengthen security and grow relationships with your customers. These eye-catching tags look better and are way much cooler than all standard name tags. Have name tags pinned in style with DigiPLUS Bluetooth LED Name Badges.
HIGHLIGHT FEATURES
Upgraded Bluetooth Programming:

Easy to input message to the LED badge via Bluetooth app on your android, or iOS devices. You can also input messages using a computer just by downloading the application software. No complicated programming is required. Not available for Mac OS.
Stand Out from The Crowd:

DigiPLUS Bluetooth LED Name Badges can surely help you garner attention in a variety of public places. Light up anything you want and create pictures, texts, and animations in just several steps. Illuminate your message and make it stand out easily with the tip of your finger. 
Flexible Fixation:

You can pin this name badge into metal surfaces and cloth. There are 2 ways on how to pin the name badges. First, with a removable magnet. Easy to fix on the refrigerator, metal plate, or any metallic things without any damage. Second, it can be pinned on clothes with the use of a safety pin.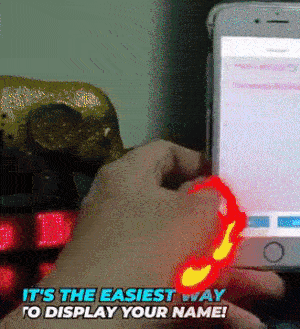 High Capacity Battery:

Equipped with a built-in rechargeable 250mAh Lithium battery. It can last for about 12-24 hours on 25% brightness and 10-12 hours on 100% brightness (Brightness Adjustable in 4 levels). It takes about 2 to 3 hours to fully charge. 
Wide Application:

Catch more attention with these striking name tags.. Use it in shopping malls, supermarkets, bars, jewelry counters, sales staff, and more. Also suitable for hotel welcomes, companies, exhibitions, nightclubs, cinemas, and other places. 
Product Specifications:
Color : Red, Blue, White, Green, Yellow, Orange, Pink
Pixels : 44 x 11
Size: 93 x 26.5mm
Supported languages: Global languages
Power supply: Lithium battery 250mAh
Charging : 5V charging for 2 hours
Software interface display: Support 13 languages
Character: Max. 750 letters on scrolling mode and 5.5 letters on static mode.
Brightness adjust: 4 levels(25%,50%,75%,100%) by long press the brightness switch
Package Included:
1 x DigiPLUS Bluetooth LED Name Badges
1 x Box
1 x Instruction
1 x Magnet
1 x Pin
1 x CD