A dull saw can make your job difficult and causes inefficiency. To make sure your saw or other tools are working at it's optimum condition, you'll have to always check the sharpness of the tool from time to time. Introducing the 
Chainsaw Sharpener
, an attachment for you to attach to rotary tools and sharpen your chain saw, lawn mower, gardening tool, shovel, hoe and etc. This is the fastest and safest way to sharpen your tools.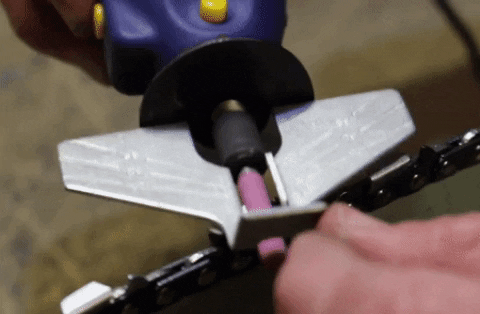 FEATURES
The Chainsaw Sharpener makes sharpening your sawing tools very easy.
Get results like how a machine and a professional does their sharpening.
Made from industrial grade steel that will outlast everyday use.
Very easy to install to any rotary tools.
Sharpens chainsaws, lawn mowers, gardening tools, shovels, hoes, and a lot more faster and easier.
SPECIFICATION
Material: Industrial Grade Steel
Size: 65 x 40 mm
PACKAGE INCLUSION
3 x Chainsaw Sharpener Grinding Tool
1 x Degree Guide
OR
3 x Chainsaw Sharpener Grinding Tool
1 x Degree Guide
1 x Portable Electric Grinder