Easily call others for help when in distress situations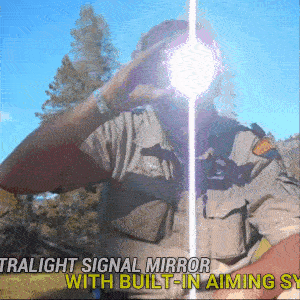 Send noticeable SOS signals when in distress using Compact Survival Signal Mirror with Whistle. This outdoor rescue mirror is a must-have device when you're outdoors for some adventure. This signal mirror allows you to reflect light and whistle for others to see or hear you in emergency situations. Made of acrylic glass that reflects light whether daytime or night time.
HIGHLIGHT FEATURES
Send reflective survival signals.

An outdoor survival essential, Compact Survival Signal Mirror with Whistle is a must-have in your survival emergency kit. One should carry this in the bag or pocket especially on remote outdoor activities such as hiking, camping, mountain climbing, trekking, fishing, hunting, extreme sports or even just in cars.  
Long-distance communication and transmission

. Send distress signals up to 100 kilometers regardless of the weather. Made of acrylic glass, you can send signals fast and accurately whether it's daytime or night time, sunny or rainy weather. It's a fast and accurate optical signal transmitter.  
Call others for help with a built-in whistle

. Send a distress call using the built- in whistle. It delivers a 150 decibel whistle attached to a lanyard and signal mirror. Only 2.2 x 2.2 x 0.27 inches

 is size, it's easy to carry in your bag or pocket while outdoors. Tough and not easily broken, it's a must-have for emergency situations. 
Versatile and multifunction survival kit.

Not only suitable for emergency signals, but also a compact and convenient survival device. This small mirror also has a compass, load bearing rope along with the whistle.  
Product Specification:
Material: acrylic glass
Product Size: 2.2 x 2.2 x 0.27 inches
Product Weight: 35 grams
Color: clear
Package Included:
1 x survival signal mirror