Want to achieve a perfectly looking edge profile for your granite countertop without the help of a professional?

This Brazed Diamond Edge Grinding Wheel is the perfect edge shaping tool for your home and kitchen improvement projects. Get one NOW!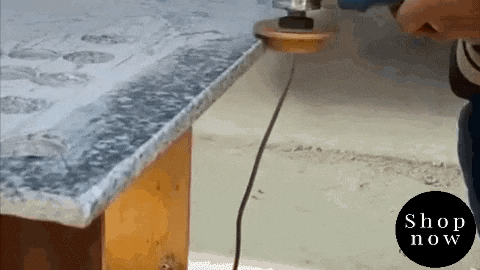 FEATURES
PRECISE FINISH - Create perfect edge profile for your kitchen countertops, concrete exterior wall, marble and granite decorative plates, and a whole lot more. The diamond abrasives are sharp enough to grind and smoothen out the surface to a clean finish.  

 

HIGHER EFFICIENCY - Get excellent result with minimum wasted effort and expense. It has ultra sharp edges that do not lose sand, allowing you to work on your project with less time and effort. It also produces less environment pollution.  

 

GRINDS VIRTUALLY ANYTHING -  Sharp cutting disc suitable for grinding marble, granite, ceramic, artificial stone, glass and quartz stone.  

 

UNIVERSAL FIT - Fits perfectly on all angle grinders and hand drills with no issues at all.  

 

HEAVY DUTY - Industrial-grade brazed diamond with integrated high manganese steel developed particularly for stone, granite, marble and more. It's durable and wear-resistant and does not deform or rupture during use.
SPECIFICATION
Material: Brazed Diamond

Thickness (mm): 10 / 15 / 20 / 25 

Edge Type: French Side

Color: Gold
PACKAGE INCLUSION
1 x Brazed Diamond Round Edge Grinding Wheel