Easy mount pool cue holder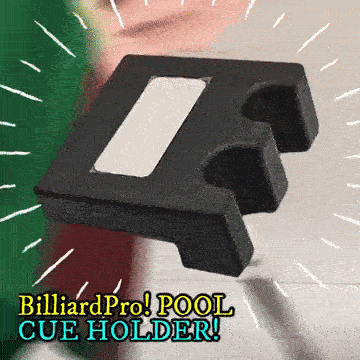 Do you need a cue rack that will assemble in minutes? Pool cue rest and holders are a necessity to keep things tidy and well preserved when playing billiards. Have the best cue that rests easily on the edge of the pool table with our
BilliardPRO Pool Cue Holder
.
This pool cue holder provides quick access to the cues to keep your hot streak rolling. Install the holder on the top of a table with the cue grooves hanging over the edge and incline your cue back into the grooves. Your cue is now protected from falling even if the table gets bumped and is easy to grab when your turn is up. Plus, this holder is sleek enough to fit into the pocket of most pool cue cases.
HIGHLIGHT FEATURES
Premium Material:

This pool cue rack is made of high-quality plastic material and is 100% brand new, durable, exquisite, and eco-friendly. The plastic firmness is not easy to break and the clamping firm is not easy to fall.
Space-Saving Protection:

Snooker rack can guard the cue from deformation. The table mounted rack can hold 2 to 5 cues and can save space. It is suitable for ball halls and individuals and effectively protects your clubs from being split or broken.
Easy to Mount and Portable:

The easy to mount feature allows it to be used anywhere. It easily fits your accessory pocket so you can bring it to any billiard hall you play. Easily mounts and sits on the edge of any table. Win most of your games having this cue holder by your side.
Wide Application:

This pool cue clip is suitable for billiard players, pool bars, clubs, etc. This is one easy to assemble cue rack that will offer you convenient and efficient service. This elegant BilliardPRO Pool Cue Holder features a streamlined finish, which makes it match any interior décor.
Product Specifications:
Material: Plastic
Options: 2-Hole, 3-Hole, 4-Hole, 5-Hole
Package Included: 
1 x BilliardPRO Pool Cue Holder