Relieve stress and relax through creative coloring books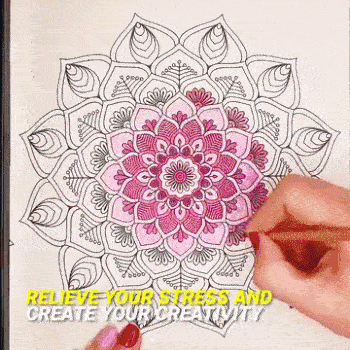 Get inspired, relieve your stress and express your creativity with these Arts & Whims Mandalas Whimsical Coloring Book Set. These are adult coloring books designed with mandalas and whimsical patterns - Secret Garden, Harry Potter, Hers and Animal Kingdom. Coloring books are proven to be therapeutic and reduce stress induced anxiety. Slow down, relax and take your time with these lovely intricate patterns waiting for you to color!
HIGHLIGHT FEATURES
Secret Garden -

  Play and be inspired by whimsical patterns, shapes and doodles in relaxing mandalas flower coloring book. Intricately and beautifully created with ink and pen illustrations. Bring each flower pattern to life with your own selection of colors. 
Harry Potter - 

Color and know the magical creatures, items and characters of the Harry Potter world. Dive into this magical world and color them as you like. From flying broomstick, elf, pixies and other magical beasts and creatures.
Hers

 - Another relaxing coloring book for grownups. Color the beautiful patterns that are related to the daily lives of women. Have fun coloring your favorite items from shoes, clothes, dresses and more! Enjoy 96 coloring pages. 
Animal Kingdom

- Find the hidden animals in each page and color them into beautiful creatures. Each page is filled with trees, insects, mammals, birds and many more. All created in mandalas whimsical patterns to encourage your creativity and self expression. 
Product Specification:
Material: paperback 
Product Size: 96 pages
Product Weight: 1.25 pounds
Package Included:
1 x Secret Garden
1 x Animal Kingdom
1 x Harry Potter 
1 x Hers