Improve your arm's tension and strengthen your bow pull
Improve your arm's tension and strengthen your bow pull by training using Archery Arm Strength Practice Trainer. This training aid is a 25lbs resistance band that helps in bow grip and pull simulation. It helps strengthen shoulder muscles and stabilize pulls. Learn proper archery form and posture while building up your stamina. Simple but effective archery training aid for all ages and levels of players.
HIGHLIGHT FEATURES
Pull bows and hold them steadier.

Archery Arm Strength Practice Trainer is a training aid that provides resistance for isometric workouts that helps build archery strength and stamina. It strengthens the arms and shoulder muscles to pull bows and sustain for accurate target shooting.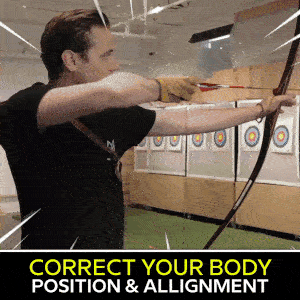 Improve archery accuracy.

With steady posture, it also  increases accuracy of your shooting. The resistance band is a good simulation training for bow handling. It's 25 lbs resistance makes the shoulder muscle more solid and stable thus increasing accuracy and precision. 
Correct body alignment and positioning.

This training equipment not only stabilizes bow handling but also helps maximize stretch by forming correct posture, alignment and positioning. It instills muscle memory of correct fingers, arm, back and shoulder positioning.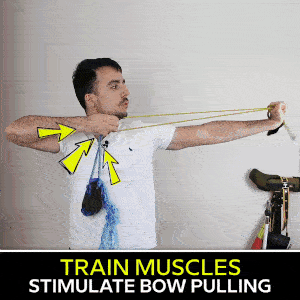 Portable and easy to carry training aid.

  Made of elastic rubber, it's lightweight and durable to carry around for training and practice. Suitable for all ages and archery players of all levels of experience from novice to seasoned professional archers.  
Product Specification:
Material: rubber, plastic 
Product Size: 50 x 20cm
Product Weight: 125 grams
Color: yellow
Package Included:
1 x Archery arm strength trainer