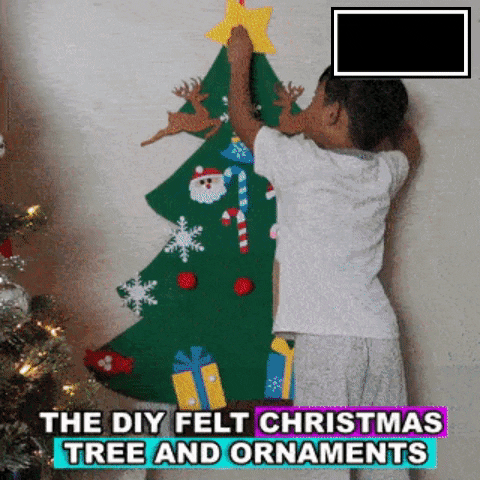 Here's a customizable felt christmas tree bundle for kids. It's a DIY Christmas decoration that comes with random sets of ornaments which may include a star, snow, Christmas wreath, candy cane, ball, socks, Santa Claus head, lollipop, bell, glove, elk, Santa Claus hat, holly, red flower, snowman, candy, gift and Santa Claus nose. Your kids will have fun setting this up for the holidays!

Stick -on Christmas tree. No need for the heavy Christmas tree. You can always make use of an empty wall to set this up. The felt material is lightweight and easily mounts on the wall using a nail or hook. The ornaments are also stick-on so your kids can decorate freely on the Christmas tree.
Fun for children to play. Let your kids have fun rearranging the ornaments as much as they want. Encourage their imagination during playtime. It's a fun way to keep their little hands and mind busy for hours. The ornaments are made of soft velcro so they can arrange and rearrange without damaging the Christmas tree or the decors.
Use it year after year. Made of high quality and nontoxic felt materials and velcro, they are sure to last longer. It's an adorable Christmas decor your kids can play with year after year. It's like a new tradition!
Product Specification:
Material: Felt
Product Size: 37.5" x 27.5" / 3mm thick
Package Included:
1 x DIY Felt Christmas Tree
1 x Set Christmas ornaments (26 pcs)