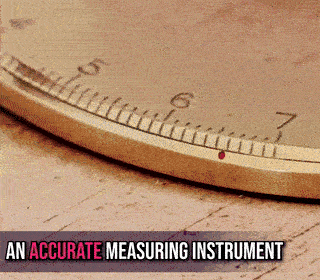 Stimulate your creativity. Design and draw with accurate measurements using Adjustable Drawing Ruler Circle Tool. Easily adjustable and rotating functions ideal for woodworking and designing works.

Compact and freely adjustable design. Adjust circles in different sizes. The ring on top closes and opens to form circles of different measurements. It has a marked measurement guide for drawing precise, uniform and perfect circles according to your needs.
Great drawing roundels. Makes drawing accurate circles a breeze on wood and even transfer paper. With 12.5cm/4.9in diameter, design and decorate circular figures, models and objects easily.
Steady and stable drawing tool. Make different circle patterns in a stable manner. Flexible but holds steadily during drawing for a neat result.
A tool for woodworking enthusiasts and designers. Helpful, precise and compact for convenient and detailed work. It's rust and corrosion resistant made from aluminum alloy and stainless steel for long use.
SPECIFICATION
Materials: aluminum alloy, stainless steel
Size: diameter about 12.5cm / 4.9in
Packing size: 16.5x15x2.8cm
Weight: about 270g
PACKAGE INCLUDES
1 x Adjustable Drawing Tool