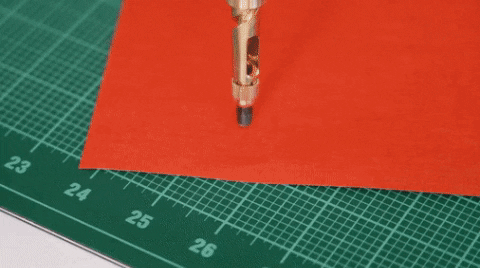 No more hammering and cutting mistakes. Punch a hole on your leather craft and other materials using 6 in 1 Screw Hole Leather Puncher. Ideal for sewing leather craft, felt press and cutting rubber, paper, plastic and fiber. Designed with 6 different tip sizes for varying punch holes.

No power needed.
A nice little tool for many different applications without the need for a hammer, nail or plier to make punches and holes on the materials. Very handy and requires less effort and less time.
Handy tool for the arts and craft lover.
Portable hole puncher for the arts and crafts lovers. Ideal for belt and leather sewing, bookbinding, paper and rubber fastening and many more crafting and DIY projects!
Multisize tips for different drilling needs.
Make holes, snaps, rivets and small eyelets in different sizes. Punch a hold on your belt, wristwatch and other leather items using the right tip size. Interchangeable tip 1.5mm, 2mm, 2.5mm, 3mm, 3.5mm and 4mm.
Simple yet functional design.
Ergonomically designed that works well even on tight spaces leather and materials. Made from durable high-quality wood handle for comfortable and firm grip and brass metal puncher for quick and precise piercing.
SPECIFICATION
Materials: Wood, brass metal
Color: Wood
Sizes: 1.5mm, 2mm, 2.5mm, 3mm, 3.5mm and 4mm tips
PACKAGE INCLUSION
1 x Screw Hole Leather Puncher
6 x puncher nozzles