Impress your friends with your eye makeup and stunning eyeshadow
No more stiff looking eyeshadow makeup and mismatched crease lines. Use a 6 in 1 Eyeshadow Stamp Kit and create stunning eye makeup combinations and designs with perfect crease lines that match your eye shape.  No more struggles in creating cut creases. Simply put the eyeshadow stamp over your lid and apply an eyeshadow using your brush. Swipe it back and forth to create a crease line in seconds!
HIGHLIGHT FEATURES
Perfect crease lines in seconds

. Cut down on your time on creating the perfect arch and crease lines. Use  6 in 1 Eyeshadow Stamp Kit to instantly achieve clear, detailed, and arched crease lines that match your eye shape in seconds! This eyeshadow stamp works as a guide tool to know where to place your cut-crease. It's the perfect tool for makeup beginners to achieve pro finish.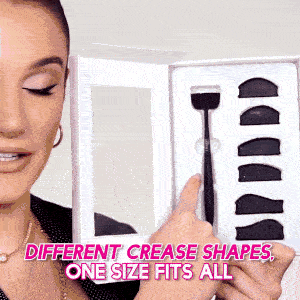 Create different eye makeup styles.

  This kit comes with 6 different crease shapers that match different eye shapes and different eye makeup styles. Achieve doe-eyed, almond shaped or wing effects eye makeup look in lesser time and without a hustle. It's a must-have tool for makeup enthusiasts, whether they are beginners or pros.  
Safe, effective and reusable makeup tool.

Made of high quality soft silicone pad that are formed in different shapes and sizes. Experiment on different eye makeup looks however you want. It's washable and reusable for long-term use. Remove and replace the crease line pieces however you like your eyeshadow. Perfect your makeup still without spending hours in front of the mirror every morning. 
Product Specification:
Material: silicone pad
Product Size: 8.03 x 4.76 x 1.02 inches
Product Weight: 60 grams
Color: black
Package Included:
1 x handle
2 x round crease
2 x almond crease
2 x wing crease