Hold the power to connect the world!
Be the genius that solves and innovates connection and network problems at home and work caused by faulty cables. Create network systems that will keep people from getting into nasty tangled situations. Your superpower? This 4-in-1 Ultimate Crimping Pliers!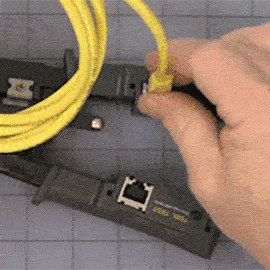 BENEFITS
One tool to crimp all the wires


You don't have to own several crimping pliers and tools to crimp, shear, strip, and measure. This tool has everything you need to create a spot-on network!
You won't fail!


Avoid getting "you messed up and do it again" call requests from other employees at work after painstakingly working on their network system for hours. These pliers have a built-in cable tester so that you can automatically check the functionality of cables you've just crimped. Plus, it has a measuring instrument that can test continuity, open circuit, short circuit, and cable miswire!
Your hands won't have a difficult time!


These pliers define ergonomics! Its high-hardened steel body has a ratcheting mechanism and its handles are reinforced with a soft rubber material that will not burn and callous your palms no matter how long you use it!
FEATURES
The 4-in-1 Ultimate Cable Crimping Pliers boast:
8P Crimper

6P Crimper

4P Crimper

Stripper and Cutter

Ratcheting Mechanism

Detachable Lock Button

RJ45/12/11 Cable Jack

LED Display Cable Tester

Test button
SPECIFICATIONS
Material: Carbon Steel

Size: 26x2x5cm  

Compatible Wire: RJ11, RJ12, RJ45

Power Supply: DC 4.5V (3 x LR-44 Batteries – NOT Included)
PACKAGE INCLUSION
1 x 4-in-1 Ultimate Cable Crimping Plier 
Taking the opportunity to connect the world?
Tap ADD TO CART to order your 4-in-1 Ultimate Cable Crimping Pliers TODAY!