Plant multiple and a variety of plants in your vertical garden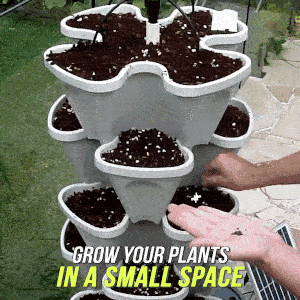 Grow your own garden without taking up your valuable space. Use 3D Stackable Vertical Planting Pots to start your vertical garden. It's a 3-tier flower pot perfect for growing your favorite herbs, fruits, greens and flowers. It makes an attractive tower garden that allows you to stack as many pots as you want and customize multiple kinds of plants all, in one vertical space. They're easy to assemble and can be placed indoors or outdoors. It's a suitable solution for garden enthusiasts but has very little space. 
HIGHLIGHT FEATURES
Start your own vertical garden. 

Love to start a garden but have little space? 3D Stackable Vertical Planting Pots is a 3-tier plastic pot that allows you to grow different types of plants like they have their own individual pot. Grow herbs, greens, fruits, flowers and more.  It's very easy to assemble and stack together. The more you stack, the more aesthetically pleasing and attractive it looks without taking up valuable space.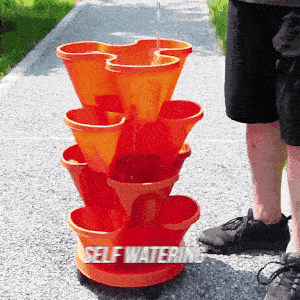 Customize your garden tower.

Plant multiple and a variety of plants in your vertical garden. The flower-shaped design allows you to plant separately using one pot. You can plant and stack them according to your preference and more than a typical garden bed or pot. You can grow 15-20 plants with just 4 stacked pots. Grow different herbs, fruits and veggies like strawberries, tomatoes, lettuce, and more. Also great for aquaponic planting.  
Indoor or outdoor planting.

Stackable, compact and sturdy plant pot that you can use indoor or outdoor. Start your vertical garden in your balcony, patio, by the window or outside in your lawn or backyard or just directly in your kitchen for fresh picks. This planting pot works perfectly anywhere. Made of durable ABS plastic, each pot has a strong load bearing to hold multiple layers of plants. Sturdy, lightweight and you can fit parts together according to how you want to customize it.
Product Specification:
Material: ABS plastic
Product Size: 12 x 12 x 28 inches
Product Weight: 3.5 pounds
Color: white, green, red, pink, apricot, purple 
Package Included:
1 x stacking plant pots