Clean every corner and hard to reach places in your toilet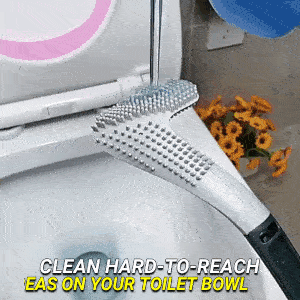 Clean every dirt and build up in every corner and crevice of your toilet using 360° Silicone Golf Toilet Cleaning Brush. This modern and revolutionary cleaning brush is designed with a shape of golf club to help you deep clean hard-to-reach areas of the toilet from under the rim, dead spots and deep in the pipes.  It's functional, convenient and hygienic.
HIGHLIGHT FEATURES
Get into all the nook and crannies of your toilet.  Easily clean dead spots and every corner of your toilet with 360° Silicone Golf Toilet Cleaning Brush. The head brush is like a silicone golf club designed to reach every corner, grooves and penetrate into the pipes. It effectively cleans out dirt and builds ups faster than your old toilet brush.  
Scratch-free brushing and cleaning. Made of TPR, the head brush is flexible and cleans at 360 degrees. It bends freely to fit the grooves and under the rim of your toilet. The soft silicone bristles brush dirt and build up with ease without leaving any scratches or damage on your glazed toilet.  
Better than your traditional brush.  Get rid of your old toilet brush. This one cleans better and faster. It's functional and hygienic and cleans 3x faster than the old type of toilet brush. It's easier to clean and does not retain dirt after cleaning.  Only 16.1x 2.8x 1.9inch and made of PP and TPR. The ergonomic long handle also makes cleaning easier without needing to bend or kneel.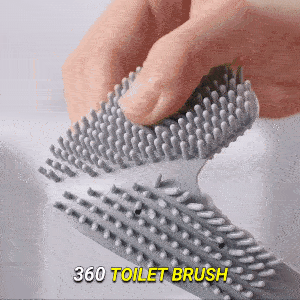 Multifunctional cleaning brush. Not only for cleaning toilets, but can be also used to clean the kitchen sink, wash basins, bathtubs and hard to reach corners in the bathroom.  It comes with a stand for easy storage and access.  
Product Specification:
Material: TPR, PP 
Product Size: 16.1x 2.8x 1.9inch
Product Weight: 0.41 pounds
Package Included:
1 x golf silicone toilet brush
1 x brush stand