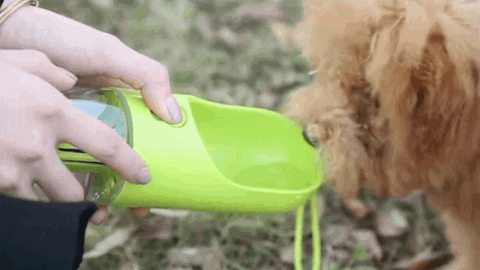 Keep your dog well-fed and hydrated while staying outdoors or during a trip. Our 3-in-1 Pets Drinking Feeding Bottle is your portable drinking bottle and treat storage. It features a big cup for food and water with a trough for easy feeding. It also has a poop shovel and plastic dispenser to take care of your pet's waste. You don't have to worry about bringing your pet without on a trip or outdoors. 
No drinking water wasted.

Your pet's very own water bottle for travels and outdoors. Fill up to 300ml of water. Dispense with a simple push of button. Its big trough ensures your pet gets easy drinking access. It comes in 4 different bottle sizes for different dog sizes. 
Portable Poop shovel.

Here's your complete pet care outdoor bottle. It also comes with a scooper and hidden plastic dispenser to easily scoop up poops without getting your hands dirty. Take care of your dog's business anywhere, anytime. 
Bring your pet outdoors or on a trip without worries.

Your perfect drinking and feeding bottle for pets. Now you can bring your furbaby on a trip, picnic, hiking or just take it to a simple stroll and walk. Feed, hydrate and scoop waste without worries.
Product specifications:

Color: green,blue,yellow,pink

Water capacity: 300ml

Material: ABS

Product size: 97mm x 94mm x 267 mm
Package Included:

1 x 3-in-1 Pets Drinking Feeding Bottle