Make pet grooming easier for everyone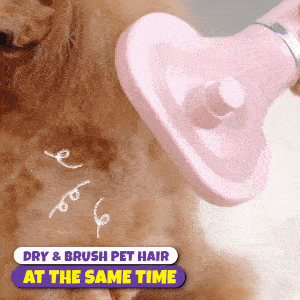 No more dogs getting scared or shy when drying time arrives. Blow dry and brush your furry friend using  2-In-1 Portable Dog Hair Dryer And Comb. This grooming device is designed for dogs with fine, short, long, and curly hair to eliminate air drying that causes tangled and unkempt hair.  It has 3 adjustable temperature settings and noise-free operation perfect for shy and sensitive dogs. Give your dog professional grooming at home.
HIGHLIGHT FEATURES
No more air drying pets after bath.

Air drying your dog's hair can cause tangled and matted hairs that are hard to undo and can cause more hair fall.  Use 2-In-1 Portable Dog Hair Dryer And Comb after bathing to comb and blow dry your pet's hair at the same time. Designed with soft bristles and built-in blower that brushes the fur smoothly and gently until dry.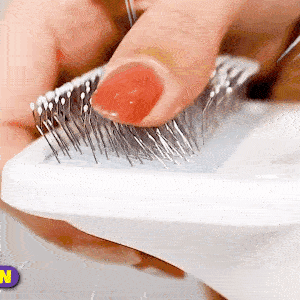 Perfect grooming brush for sensitive pets.

Dry and brush your pet from the head, ears, neck, body, tail and legs without scaring them or making them anxious. This pet dryer and brush is low-noise operation, almost whisper quiet at <60 dB. The heat from the brush and the fine bristles helps your pet more relaxed after bathing. 
Style and groom your pet easier

. Untangle and straighten out matted hair, fluff up thin hairs or dry curly hair faster. This pet comb and dryer is perfect for styling your pet's fur too. It has adjustable temperature levels  - 60℃, 50℃ and 40℃ heat. It also has a one-button hair removal that collects excess and hair falls as you brush, making disposing more convenient for you.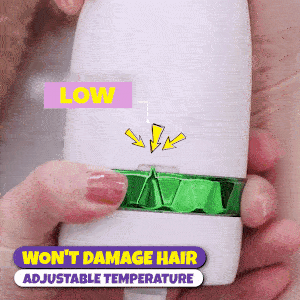 Convenient professional pet grooming. Lightweight and portable, this device is travel-friendly and a perfect gift for 

anyone who loves to travel with their pets. Use it to pamper and give your pet a professional grooming in the comforts of your home. This is also a must- have for a professional pet stylist, pet groomer and pet salon.  
Product Specification:
Material: ABS, 304 stainless steel 
Product Size: 14.8 x 5.4 x 3.1 inches
Product Weight: 1.4 Pounds
Color: white 
Technical Specifications:
Decibel: <60 dB
Temperature levels:  60℃, 50℃ and 40℃ heat
Input Power: AC100- 120V
                      AC220-240V
Maximum Power: 300W
Package Included:
1 x 2-In-1 Portable Dog Hair Dryer And Comb