Minimize the amount of space needed to make your wrench turn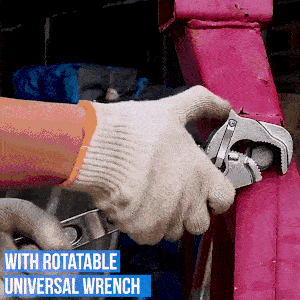 Loosen or tighten bolts and nuts in tight spaces. 180 Degree Rotating Flex Ratcheting Wrench saves you a lot of time and annoyance from removing and repositioning the wrench after every quarter turn in tight corners. This adjustable wrench is self-adjusting and capable of rotating its head up to 180 degrees. This allows access to hard to reach fasteners whether under the sink, car engines, plumbing, and even farm machineries.
HIGHLIGHT FEATURES
Flexible head that rotates up to 180°. 

Manage to access hard to reach fasteners, bolts and nuts without the need to take off the wrench. It's convenient, versatile and very useful to install and remove fasteners in tight and limited spaces.  
Adjustable and lockable ratchet. 

Adjust angle and lock in 9 different positions. This self-adjusting ratchet wrench is great for quick fixes. Perfect for repairs and installation at tight and awkward angles with its fast ratcheting and powerful grips. It has a magic button that switches the ratchet on and off with a single press. It also has a push button for flex head that allows rotation up to 180 degrees. 
Versatile and multifunctional for different applications.

Clamp pipes and fasteners from 10-40mm diameters and 25mm jaw opening.  Made of chrome vanadium steel and stainless steel, this is a one-hand operation and versatile tool for plumbing, appliance, car engine, farm machineries, and DIY maintenance and repairs.  
Product Specification:
Material: chrome vanadium, stainless steel
Product Size: 8.07 x 2.17 x 0.51 inches
Product Weight: 317 grams
Color: silver
Package Included:
1 x rotatable universal wrench