Day and night home and backyard monitoring trail cam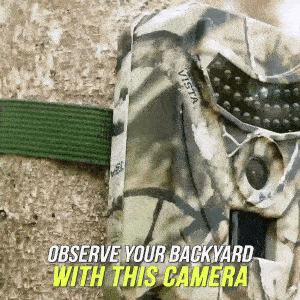 Conceal your security cam and monitor the surrounding area of your garden and backyard. Install 16MP Motion Sensor Ultra Night Vision Trail Camera as an added security measure to your home and backyard. It has a motion sensor detector that captures images and videos whenever it enters the trigger distance of 25 meters and 120 degree wide angle view.  No glow IR LEDS and design that camouflages in rocks and trees perfect for taking images and videos clearly in night vision mode.
HIGHLIGHT FEATURES 
Protect your home and property from thieves and vandals.

Put an additional security camera in your garden and backyard using a 16MP Motion Sensor Ultra Night Vision Trail Camera. This high resolution trail camera makes a great surveillance tool that you can easily conceal on trees and rocks. It's capable of taking images with its 16MP camera and 1080P videos with clear audibles and time stamps. It records 10 to 90 seconds videos and images that are moving within the given range. It can capture as small as rodents, moles and squirrels pestering your plants and garden. 
Sleep better at night with added security.

Trail cams can be used for your surveillance and security needs. It has a built-in motion sensor detection that triggers up to 20 meters even in total darkness. It captures everything that moves within the distance trigger at 0.2 of a second. It takes clear night vision videos and images without any flash with its no-glow 48pcs of LED IRs. This prevents any light from shining and alerting the trespassers. Find out who and what are causing trouble in your garden. 
Long standby battery mode.

This trail cam captures and records everything that triggers the motion sensors and also stops when movements are no longer detected. This helps preserve battery life that can last for up to 180 days.  Waterproof, weatherproof, fog and dust resistant. It's a great choice and alternative as a surveillance camera for garden that you can easily conceal. 
Product Specification:
Material: ABS, electronics
Product Size: 135 x 90 x 76mm
Color: camouflage
Technical Specifications:
Video resolution: 2.7K/1280x720/30fps 720x480/30fps; 640x480/30fps;320x240/30fps
File format: JPG/.AVI
Range of IR flash: 25m (daylight) 20m (night vision)
Display: 2.0" TFTLCD
Trigger Time:  0. 2 s 
Power Supply:  4 x AA battery 
Stand by mode; 8 months
Package Included:
1 x Hunting Camera
1 x USB Cable
1 x Strap
1 x Manual